Tire Repair Shop & Alignment
Tire Repair Shop & Alignment
We handle all types of alignments, as well as tire repair, wheel repair, and tire rotation.
Your tires are your central point of contact on the road, which makes it so important to get them serviced. 
Let's face it, tires that aren't rotated  probably will decrease your braking and cornering capabilities. To get the most miles out of your tires while maximizing traction on all four wheels, regularly rotating your tires help evenly distribute tire wear. 
Here at Telford Auto Services we consider this as basic tire maintenance and recommend you get your tires rotated every 3,000-6,000 miles.
Tire & Wheel Repair
Tire Alignment
Tire Rotation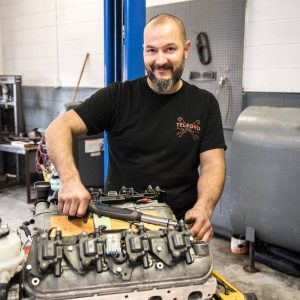 2 YEAR / 24,000 MILE WARRANTY
WE'RE THE BEST AT WHAT WE DO, WHICH IS WHY WE OFFER A 24 MONTH/24,000 MILE WARRANTY ON MOST PARTS AND LABOR. SO YOU CAN FEEL SECURE WHEREVER YOU MAY GO.
Customer service is excellent. The user friendly payment and texting features (amazing). Prices are very fair compared to other places I've tried! I'll definitely be back

Zach Campbell
01:42 20 Sep 23

Juana Rivera
21:02 18 Sep 23

Clean polite and friendly. Also it's rare that I trust garages. Too many shady ones out there. Took my truck there for service and they called and told me it didn't need done. No charge.AWESOME

Ron walters
17:11 12 Sep 23
Arrived at shop, serviced within seconds and was out in less than an hour. Talk about great service!!

allan funes
12:57 12 Sep 23
I'm always please with the service, prices are reasonable, they always try to accommodate me, very satisfied.

raphael bussy
17:59 11 Sep 23
Took my car in for an oil change and they had it done within an hour and for a reasonable price! Thanks!

Ally Garber
15:13 09 Sep 23
Telford Auto was able to give us service on the day we contacted them. The service was well done. We greatly appreciate their ability to work with us in a timely fashion and the quality of service provided.

Judith Muldowney
16:55 29 Aug 23
Dropped car off in am. Very accomidating. Ready in afternoon. Work done as promised.I am pleased with these guys

Really appreciate the guys over at Telford Auto. They do great work at a fair price. It's the only place that I would trust my family's vehicles with.

Mike Chesterman
18:01 17 Aug 23
Over a year ago, someone smacked their car door into the gas cover door on my Celica in a parking lot. Ok-it was dented and some paint scraped off but the door still worked-until recently. If I hit a bump, the gas cover door flew open. Telford Auto ordered a new door and matching paint for me, fixed it, and it's now the best looking part of my whole car! Thank you!

Beth Swartz
13:09 17 Aug 23
Suggested Transmission tune up.

Carol Martucci
16:06 16 Aug 23
I was there a week ago to get my car inspected and oil change. Did a great job servicing. What needed to be done. The people there very nice to deal with. I will definitely be back for more services in the future. Thanks again for a great shop.

Telford Auto Repair and Tire, accomplished what the dealership of my truck could not, repair the air conditioning. I highly recommend them to anyone having air conditioning problems! Telford Auto Repair got it right…

John Muller Jr.
00:41 13 Aug 23
My husband and I have been sending our cars to Telford Auto for a few years now. They are always honest, quick, and affordable! We would recommend them to anyone in a heart beat!

Natalie Herbert
02:03 09 Aug 23
I have brought my car here twice and they are really good about explaining what your car might need but not telling you to get extra expensive things you don't really need. They fixed my AC well, and they recently did my oil change and an inspection. Also after driving over a traffic cone the plastic below my car was shredded so they removed that also.

Telford auto provides great service overall! They take their time to explain everything, prices are reasonable, and their work is great. Highly recommend!

Always dependable and honest.


cynthiagrice51
13:13 02 Aug 23
The Guys at Telford Auto service get a Thank You for helping fix my sons truck the same day I called to ask if they could get the vehicle in ASAP, they did and he was back on the road the day!!! Thank You much appreciated.

william tyson
18:59 31 Jul 23
The team at Telford auto is amazing. Always great communication and the timing is always spot on. Wouldn't consider taking my car anywhere else.

Leonard Thomas
17:17 31 Jul 23
The people there are pleasant, honest and do work in a very timely fashion. I highly recommend!

Monica Horwedel
16:53 26 Jul 23
I am beyond pleased with the service I received at Telford Auto Repair & Tire. I did not feel pressured into getting any services I didn't need, I received careful explanations for each service that was performed, and the price was very reasonable. I will never take my car anywhere else for service--I know my car is in good hands with the crew at TAR&T.

Carl Schulz
17:07 19 Jul 23
These guys are honest and truthful with what needs to be done. I use them for everything when I don't feel like doing it myself. My only complaint is parking is a mess when they are busy but if you know when you need a service, Shawn will work around your schedule. Prices are fair. As a mechanic/diy guy, labor for a vehicle is never expensive because if done wrong you could pay the ultimate price! Stop dabbling around with all these other guys you probably hate and come to Telford Auto!

I have been taking my car to Shawn for years. As always, Shawn and the guys were professional and helpful. All repairs are done quickly and without fuss; the work is always correct and they are honest and fair. THIS is why I keep going to Telford Auto Repair and TIre!

Deb Shapiro
16:13 17 Jul 23
Very nice and explained everything highly recommend

elizabeth martinez
17:31 11 Jul 23

eric ziegler
15:07 08 Jul 23
Telford Auto performed fuel induction cleaning on my 2020 Hyundai Kona for $80 less that the dealership.I've known about them since 2017, when I started taking my Saturn Vue to them for regular maintenance. they are very knowledgeable and friendly.i will continue to take my Hyundai there for it's regular maintenance.

TERESA musselman
18:02 05 Jul 23
These guys tried charging me $400 for a $28 dollar part and a 30 min job. Guy at the desk could not explain why their price was so high. He said "all our work comes with a warranty". First I've heard of it in a year of bringing two vehicles here. Would not recommend to anyone. Beware these guys are out to scam.

Ron Butler
18:21 02 Jul 23
The team got my inspection and oil change done very quickly. They called with optional services to consider but didn't pressure me into anything "extra". I bring all 3 of our family cars here and have been happy with that choice.

Dan Schwartz
17:11 28 Jun 23
Always fast, always checks in to make sure everything was done correctly. Super speedy and easy to make appointments.


Harry Seigafuse
18:36 14 Jun 23

Jason Smith
17:32 13 Jun 23
I have been using Telford Auto Repair for a few months now - prior to finding them, I was having horrible experiences with different dealers in the area. Besides the fact that they are close to me (which helps), they communicate great and complete everything in a timely matter. I would definitely recommend.

Shannon Gannon
13:50 13 Jun 23
Very good mechanics. Did a great job in a timely manner.

Kathleen M. Golden
02:50 08 Jun 23
I have been using Telford Auto for several years and have never had anything but great praises for their quick service, great work and reasonable prices. I have recommended Telford Auto to many of my friends and family, who also have been more than satisfied with their work. I'm definitely a fan.

My family uses this shop all the time for our vehicles and we have been for years. they always seem honest, reasonable in pricing and professional.

Isabella Botak
17:52 06 Jun 23
We broke down coming in from Upstate NY headed to South Philly. In a panic I Googled some shops this one came highly rated, so I called. They said they'd get us right in, within 5 minutes from getting my vehicle off the tow truck and checking in. They gave us a diagnostic not to long after and got the parts there within minutes. From start to finish this shop was super friendly and accommodating & let us tow our vehicle there and was able to fix our vehicle within a couple of hours at a very fair rate. If ever this way and we need maintenance we will be back. Either way we highly recommend 10/10. Thank you guys!!!!

Rachael Russo
20:44 02 Jun 23
I had trouble finding a place I could rely on for auto maintenance and emergencies for the better part of a year. Telford Auto Repair finally provided the consistency and quality work I was looking for. Like their site says they got the work done right the first time. They've changed spark plugs, patched tires, changed oil and transmissions fluids for me , all in a timely manner, with friendly service and fairly priced. I'll keep going back.


Archie Ketterer
00:52 28 May 23

anthony amodeo
12:25 23 May 23

Drew Deibler
01:29 21 May 23
I came here to get my car inspected. I am new this shop, but oh my gosh, I will recommend this place to everyone! The staff is super professional, they communicated very well with me and explained to me what needed to be done. I had to get my shocks replaced and they got my inspection and my shocks replaced all in one day. They also gave me a list of other work that needs to be done on my car and when they recommend it be done! I have never had a mechanic do this!Update: I have been coming here for about 2 years now and they are phenomenal! They always ensure I get the best service and they are always willing to work around my busy schedule to ensure my car runs smoothly.

Bridgette Brandt
19:22 19 May 23
Excellent and timely service. Minimal wait with an appointment. Always a fair price.

jamie broff
16:28 15 May 23

Paul Rorer
13:54 09 May 23

Aracelis Lee
22:09 04 May 23
They have always been able to squeeze me in for emergency repairs with little wait time. They have been such a help to me!

Bridget Raley
17:17 25 Apr 23
The most reliable mechanic I've ever used. Takes the time to explain what needs to be done and is very reasonable with prices. Gets your car back to you in a timely manner, no worries.

Always quick and reliable. They are professional and you don't feel like you are getting ripped off.

Nick Kaminsky
17:02 19 Apr 23

Barbette Snyder
18:29 18 Apr 23