Tire Repair Shop & Alignment
Tire Repair Shop & Alignment
We handle all types of alignments, as well as tire repair, wheel repair, and tire rotation.
Your tires are your central point of contact on the road, which makes it so important to get them serviced. 
Let's face it, tires that aren't rotated  probably will decrease your braking and cornering capabilities. To get the most miles out of your tires while maximizing traction on all four wheels, regularly rotating your tires help evenly distribute tire wear. 
Here at Telford Auto Services we consider this as basic tire maintenance and recommend you get your tires rotated every 3,000-6,000 miles.
Tire & Wheel Repair
Tire Alignment
Tire Rotation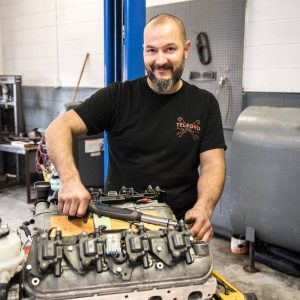 2 YEAR / 24,000 MILE WARRANTY
WE'RE THE BEST AT WHAT WE DO, WHICH IS WHY WE OFFER A 24 MONTH/24,000 MILE WARRANTY ON MOST PARTS AND LABOR. SO YOU CAN FEEL SECURE WHEREVER YOU MAY GO.
Shawn was very helpful. I had alot of questions and he didn't make me feel silly for not knowing! Thank you guys!

Danielle Dick
15:18 20 Jan 23
I've been going to these guys for years. I brought my last car, and now I bring my new car. I've never been disappointed with their service. And I'm super thankful for their text reminders!

Candice Dugan
22:09 17 Jan 23
I was very worried about finding a trustworthy mechanic when I moved to Souderton. I'm glad that I did.

Daniel Terwilliger
19:10 11 Jan 23
The Guys at Telford Auto service get a Thank You for helping fix my sons truck the same day I called to ask if they could get the vehicle in ASAP, they did and he was back on the road the day!!! Thank You much appreciated.

william tyson
14:48 03 Jan 23
Came here six months ago after my long-time mechanic retired and sold their shop. Great local place with fast service. They also take the time to let you know about upcoming needs with no pressure to immediately have the work done.

Mike Diamond
16:38 28 Dec 22

Danny Watkins
17:41 26 Dec 22
Sean is very knowledgeable in diagnostics and will do a great job. Highly recommend.

ken buehrle
15:47 22 Dec 22
These guys are the real deal. No bs. Will recommend to anybody needing work on their car

marc drobile
18:07 08 Dec 22
I am committed to taking my very old Subaru to Shawn and his team for continued maintenance. I know I will always get a fair deal and if they can patch something without replacing it, they will do it. As long as it's not a safety issue of course! They understand we are working people as well and not mega rich!

Donna Snyder
16:36 08 Dec 22
Great service and reasonable cost for work done. Always willing to fit me in when needed.

Amber Christman
17:13 07 Dec 22
Tire repair. Friendly service. Completed quickly.

Victor Donhauser
16:38 25 Nov 22
Telford auto has always been helpful with our small and large vehicle problems. They are friendly, reasonable, and knowledgeable,I encourage everyone in the area to give them a call and get great customer service and quality work done to your vehicles.

Jennifer Losinger
14:18 23 Nov 22
The owner Shawn is always so accommodating for me, twice I forgot about my car appointment called Shawn/or he would call me and rescheduled me right away. When I had an issue with my car he had his team look over the situation and informed me that I should get it checked at the dealership since it should still be covered under warranty, he was honest and didn't just give a price. Thank you ♥️

Maria Lenox
03:06 16 Nov 22
Excellent service. Great customer service. Timely repairs were done and I was able to use my vehicle the same. Am a very satisfied customer. Thanks Shawn and your team.

susan mutua
19:39 10 Nov 22
Telford Auto was extremely accommodating and thorough and clear when letting me know what was needed and/or recommended. Would definitely recommend!

Sara Allen
15:55 04 Nov 22
This shop is wonderful. Shawn and Ken have excellent customer service, clear communication skills and fair pricing. I would recommend the service center to all my friends and family. Excellent work performed on my vehicle and honest people.

Cortney Robinson
18:38 31 Oct 22



Jason Smith
01:37 05 Oct 22
Great service!! Easily one of the best mechanics I've used. They go over your entire vehicle. They get you in and out super fast. Twice I needed immediate, same day service and they accommodated. Give them a try.

John Carabello
18:57 03 Oct 22
This is a clean well run shop! Shawn will fix you up at a fair price . all round great honest place to have your work done! Don't pass this place up!!!!

deborah lehtonen
21:16 26 Sep 22
Fantastic service scheduling was extremely easy and the service was incredibly fast we absolutely love Telford auto and would recommend it to anyone

Joseph Pupek
18:47 26 Sep 22
Best place ever, thank you so much for always give me a great service!!

Silvia Betancourt
19:16 19 Sep 22

Dropped car off in am. Very accomidating. Ready in afternoon. Work done as promised.I am pleased with these guys


Maria Farrell
11:26 31 Aug 22
These guys are honest and professional. They also do quality work in a timely manner, and I'm simply thankful!

Lucenda Ford
02:26 30 Aug 22
Great service and customer support.

Clean polite and friendly. Also it's rare that I trust garages. Too many shady ones out there. Took my truck there for service and they called and told me it didn't need done. No charge.AWESOME

Ron walters
19:51 22 Aug 22
Got me in a few days after I called to have Fluid Film applied to my new truck, took me in and less than an hour later it was done, nice work!!

Les Schoenberger
00:33 16 Aug 22

Charles Mawson
02:48 10 Aug 22
Easy to communicate with, fair prices


Madeline Lomas
20:39 08 Aug 22
Always have these guys do my oil changes and inspections. Easy to schedule and the repairs are performed professionally.

Jamie Davidson
19:35 08 Aug 22
Fast service. Knowledgable.

Daniel Watters
18:31 08 Aug 22
This shop goes over and beyond to accommodate you. They make scheduling easy through text messaging and they always do good work

Jamie Malloy
16:41 26 Jul 22
I have searched for 3 years to find a good auto mechanic that I could trust. Finally I found Telford Auto. They are very reasonably priced, they are quock to get me in when needed. Very nice staff. Always trustworthy. Definately reccommend theor services.

Anna Gerhard
17:12 20 Jul 22
Suggested Transmission tune up.

Carol Martucci
13:33 15 Jul 22
Shawn & crew do a fine job of repair & getting vehicle back quickly…have recommended them to several others…

EARL SMITH
15:54 14 Jul 22
Great spot, good service!

The guys at Telford Auto go above and beyond to help you. Great work, great customer service. Would highly recommend.

Tonya Miller
22:20 11 Jul 22
Telford is my go-to for my vehicle. They are professional, close to home and reasonable rates and a small local business, great service highly recommend them.

Joyce Mccann
12:23 07 Jul 22
Needed my rear brakes and rotors replaced, and I knew exactly where I wanted to get that work done. They are honest and will treat you well, while doing work in a timely manner. I definitely recommend Telford Auto!

This visit was for an oil change and changing my rear wiper. Although this was not a major repair, I have gone to Shawn for a number of years for all my Honda's needs. The service is fair, reasonable, and the mechanics are honest. They will not try to upsell me and often give me a heads up and let me know if something can wait for later.

Deb Shapiro
17:01 20 Jun 22
Very friendly and polite. Had a last minute issue and they were able to get taken care of quickly. Will definitely be going back

Phylis InTheHood
22:15 06 Jun 22

Fredani Pagan
21:11 06 Jun 22
Great experience. They take their time to take pictures of the car issues and explain them.

Ilona Seidel
21:58 31 May 22
Outstanding service! Top-notch quality of work Barb customer service. Very affordable; did the work needed and didn't "recommend" additional, unnecessary work. Would definitely go back and recommend to others!

Brent Werley
16:42 20 May 22
Service was prompt and information detailing the problems were detailed and explained thoroughly, recommendations were appreciated!

Will go out of my way to have my vehicles serviced with Telford auto. Always very communicative with findings and recommendations before any work is done. Trustworthy business I tell everyone about.

Lisa DeNova
16:59 16 May 22